How Mulching Can Benefit Your Garden
In seeking to maintain or improve the growth and health of trees, plants and flowers in gardens there are several practical, techniques that gardeners can apply. One approach that has proven to be very effective in helping to promote the health of gardens is mulching.
Mulching can be used for Multiple Purposes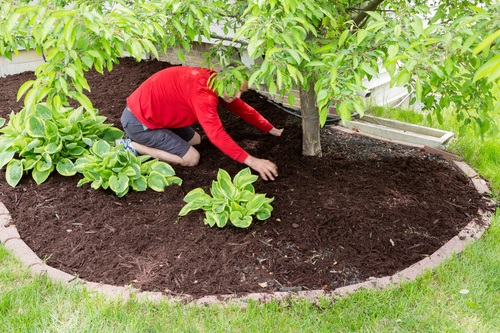 Mulching refers to the practice of applying a layer of material to the surface of soil. Mainly it is used to improve soil health and fertility, retain soil moisture and reduce weed growth. Mulching can be utilized in several different, areas including vegetable gardens, flower beds and surrounding landscapes. It is so effective that it allows gardeners to spend less time plucking up weeds, watering gardens and fighting pests.
Apart from its main uses mulch can also be used to lend additional support to plants by helping to stabilize them as well as help to enhance the visual appeal of gardens.
Types of Mulch Gardeners can Utilize when Mulching
When mulching gardens there are two basic kinds of mulch that gardeners can use these are organic or inorganic mulches. Generally organic mulches consist of numerous materials including straw, grass clippings, chopped leaves, shredded bark, wood chips and sawdust and inorganic mulches are mainly comprised of gravel, stones, geotextiles and black plastic.
Nevertheless both types of mulch can be used to deter weed growth and improve soil quality however with organic mulches soil is improved gradually as the organic material decomposes while inorganic mulches don't.
Important Tips to Consider
If mulching to combat weeds there are a few things that people should keep in mind if it is to be done properly and effectively. Firstly it is recommended that mulch be laid down over soil that has already been weeded and secondly it should be laid down thick enough to discourage the reappearance of new weeds.
Considering this the thickness of mulch placed over soil should range around 4- 6 inches though a 2- 3 inch layer normally suffices in areas that have more shade and weed growth is not as prevalent.
Another very essential tip gardeners can utilize when mulching is the addition of nitrogen products to soil. Products like blood meal or fish meal can be used and should be applied before the mulch is laid as organic mulches usually have a low nitrogen content and this can help to increase nitrogen levels in soil so that plants get the desired nutrients.
Nevertheless one of the most important things that gardeners should take care to remember when mulching is how they place the mulch. When laying down mulch it should be kept no less than an inch away from crowns and stems of plants. This is mainly because wet mulch resting against the stems of flowers and vegetables can cause rot. Therefore it would be wise to ensure that mulch is placed at the appropriate distance to prevent this from happening.
Need Help with Mulching Your Garden? 
If you don't know what to do or need help mulching a large garden area don't hesitate to give us a call at DK Landscaping Inc. at: (707) 280-3632 we'd be happy to come and give you a hand.
Our services are prompt and professional and our prices affordable. Here at DK Landscaping we strive to offer the highest quality landscaping services to clients so give us a call today or you can check out our website: dklandscaping.com to have a look at the services we offer.
Tagged: DK Landscaping, mulch, mulching
---
You can leave a response, or trackback from your own site. Back to Top