About Us
Our Team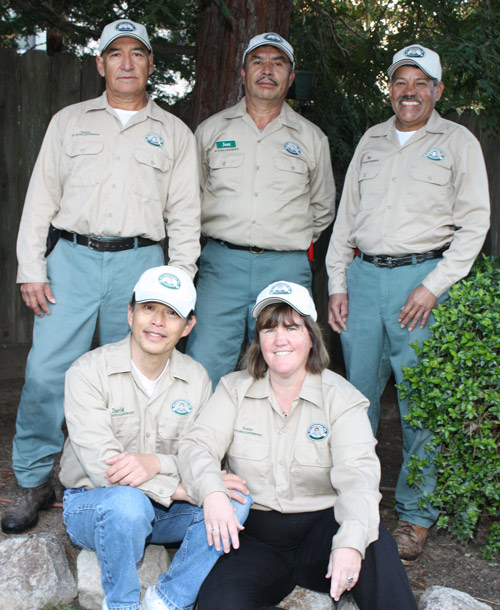 To us, use of the word team is not a gimmick. The five of us really do work as a smoothly-functioning, mutually-respecting, interdependent team. We'd like to tell you a little about each of us.
David Lee, President

David's background is in computer science. He is proud to have worked for Hewlett Packard in its glory days. After 20 years there, he decided to take HP's approach, providing the best services and products and the best jobs, into the landscaping business. The drive that took David from high school pushup champion to computer engineer at Silicon Valley's premier company to president of his own successful company will ensure top-quality work at your home. David's direct number is 707-217-6508.
Click here for a description of David's championship accomplishments.
Kathy Lee, Operations Manager

Kathy is the K in DK Landscaping, as in "David and Kathy Landscaping." After decades of office work, Kathy looked forward to working outdoors and being in the elements, and joined DK full-time. She returned to school and became certified in landscape maintenance and management, earning SRJC's Environmental Horticulture Student of the Year award. Kathy is also certified as a Qualified Water Efficient Landscaper (QWEL) through the Sonoma County Water Agency, and looks forward to helping you save water and money.
Kathy now runs the day-to-day operations of DK, doing everything from bookkeeping to digging irrigation trenches. She's the one who will call you when a job is done to make sure you're happy.
Tony Hererra, Senior Maintenance Account Manager

Tony has over 20 years of landscaping experience with reputable landscaping companies throughout Sonoma County. Tony received the Crew Leader of the Year award for Northern California in 2004 while working for the largest landscaping company in the world. Tony joined DK Landscaping because he was frustrated that elsewhere he was not allowed the time and resources to provide excellent service to his clients.
Tony's outstanding attribute is his desire to provide you with the very best service. He is happiest when he sees the joy on a client's face because of his service. A team player and a fatherly figure, Tony is always seeking to help others. In his spare time, Tony enjoys spending time with his wife, Phong, and their children, Alvaro and Antoinette, as well as playing volleyball and soccer.
Optaciano "Tadcho" Salcedo, Maintenance Expert

Tadcho Salcedo has over 20 years of landscape maintenance experience. For years, he worked for Tru Green, the largest landscaping company in the world, joining DK in 2008.
He is from Nayarit, Mexico. He and his wife, Maria, have three children, Emelda, Deanna, and Estiban, and three grandchildren. Tadcho enjoys visiting family and friends, shopping with his wife, watching soccer, dancing at parties, and traveling.
Jose Rodriguez, Maintenance Expert

Jose has 22 years of landscaping experience. His skills include landscape maintenance, irrigation, plumbing, handyman work, and construction. Before coming to the landscaping business, he was a paramedic with the Mexican army for nine years.
Jose has five grown children and five adorable grandchildren. His hobbies include soccer, volleyball, baseball, cooking, sewing, and fine gardening.
After working on landscapes all day, Jose loves tending to his own landscape. He is a rose aficionado with 40 different roses in his garden, many started from grafts.