Archive for Real Estate
---
Are you a gardening enthusiast or local farmer? Well if you are you most likely do all in your power to create and maintain a healthy environment for your blooms or crops. There are some cases though that crops or plants don't grow to their full potential and one of the main reasons for this is poor soil quality. There are a few techniques that can be applied to rectify the issue of poor soil quality one of which is the use of fertilizer.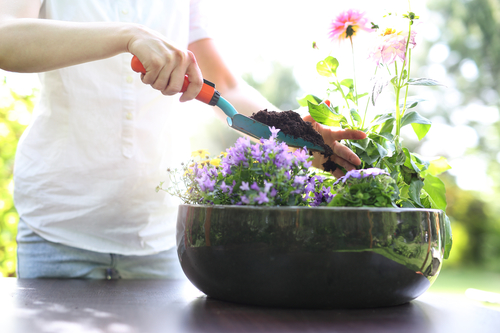 Fertilizers In Detail
Fertilizer can come in several forms and is an excellent way to enrich your soil and promote plant growth. Before using fertilizer with your plants or crops it would be a good idea to educate yourself on the different types of fertilizers and why they are used. It would also be best to read labels to ensure that applications are accurately made when using fertilizer. Here is a list of some of the most commonly used fertilizers in gardens or on farms. These include:
Organic Fertilizer – These consist of naturally bio-degradable materials and mostly come in the form of animal manure but others can also contain compost, seaweed, peat moss, mineral deposits and other ingredients from nature. This type of fertilizer is great for gardens and crops as it not only restores the overall soil quality but improves the long term health of soil.
Inorganic Fertilizer – Again this type of fertilizer can come in several forms including liquid, powdered or granular form. These fertilizers are generally used to treat industrial fields as they are cheaper and produced on a large scale. They also allow plants to carry nutrients from the soil easily since they are not as bulky as organic fertilizers.
Chemical Nitrogenous Fertilizer – This type of fertilizer usually comes in granular form and has a high content of nitrogen. Once applied to the soil it is converted to ammonia and dissolves when it rains where the nutrients then travel through the ground and into the plant's roots.
Phosphate Fertilizer – This is mainly applied to soils that are acidic and is contained in both organic and synthetic forms. This type is usually applied during the sowing season.
Potassium fertilizer – This is normally utilized to help improve plants thriving in sandy soil. It works to increase the potassium content where it's inadequate. Potassium fertilizer can come in the form of sulfate of potash and muriate of potash. Sulfate of potash is made by treating potassium chloride with magnesium sulfate and muriate of potash uses a crystallized form of potash to fertilize plants which is absorbed at the surface level of the ground.
Now that persons are a bit more educated on the different types of fertilizers and their uses they should easily be able to determine how and what type of fertilizer they should use to achieve the best results with their plants or crops.  Contact us for more information.
Spring is just around the corner, and what better time than now to give your backyard a makeover? Whether you have a cozy yard or a sprawling retreat, there are a host of inexpensive and easy backyard ideas you can try that will enhance your lawn, garden and outdoor living areas.
Easy Backyard Ideas
Create a living fence by decorating a wall with an espaliered tree. You don't have to be a master gardener to do it, and it gives your yard a high-end look without the high-end expense. Espaliered trees are a great way to make a small yard look like it's filled with greenery.
Here's one of the best money-saving backyard ideas. For an inexpensive way to add hardscaping – walkways, edging and retaining walls – ask your landscaping company if they have stone leftovers. Stacked together, the different shapes, sizes and colors make a beautiful elevated garden section that looks incredibly natural. Use low-growing groundcovers and other perennials to present a gorgeous burst of color.
Sometimes, the simpler the better backyard ideas win the day. Create low-cost nooks by rearranging garden furniture in separate areas of the yard; perhaps one area for eating and another for relaxing. The idea is to create conversation zones where family and guests can gather to catch up and enjoy themselves. No need to buy new furniture – but coordinated pillows and chair pads are great for giving each area its own distinct look.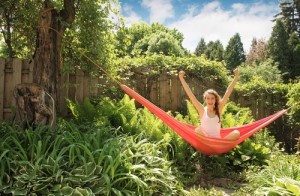 One of the easiest backyard ideas for adding color is by using containers that are filled with annuals. Annuals are less expensive than perennials and shrubs but really pack a punch when arranged in containers. For a calm, retreat-like feel, use vessels of one color, though the shapes and sizes can differ.
If you're in need of a new piece of furniture, but it's just not in the budget this year, try this fun DIY seating area constructed from low-cost concrete blocks that are fitted with wood beams and then a foam cushion. True sophistication for little money!
Outdoor lights are one of everyone's favorite backyard ideas. They're fun, they say celebration and their sparkle adds a warm glow to backyard gatherings. Use different color string lights or LED cords to wrap a tree or line a pathway. You can even run a set down the length of the table for a lovely light to dine by.
If you want to cut back on how much water-hungry lawn you have, check out interesting, less-expensive paving materials such as crushed rock and gravel. They're perfect for placing underfoot at outdoor seating and dining areas. If you're in love with the look of traditional, larger pavers, use fewer of them interspersed in your grass in order to cut down on your total outlay.
Many hardscape elements, such as trellises, can be found at flea markets or garage sales. You may even have enough scrap materials around the house to construct one. Who doesn't have a bunch of old frames packed in boxes just waiting to be used "one day?" Take some inspiration from this beautiful piece and put those frames to good use. If you love the rustic look, there's no need to varnish or paint them. Trellis are one of the best backyard ideas for adding height and defining backyard traffic flow.
There's always a way to get the beautiful backyard you've always wanted without having to break the bank. These fun and beautiful backyard ideas are the perfect way to get started!
First impressions are everything! The same concept holds true when speaking about your landscape. From a real estate perspective, a good first impression, aka "curb appeal" is about using your landscape to enhance the appearance of your home. Whether you want to boost your curb appeal, market the value of your home or simply want to transform your space to make your lawn & garden look pristine, DK Landscaping helps you come up with the inspiration for the look you desire and making your property the talk of the neighborhood:
Here are a few simple ways to enhance and maintain your landscape:
General maintenance: Mowing your lawn, pruning back trees/shrubs weeding, fertilizing, mulching, leaf and debris-free to watering will keep your yard looking beautiful and eye-catching throughout the entire growing season.
Visually inviting entryway: There are a lot of little things you can do to spruce up your front entryway including keeping it debris free. If you have an old, dull concrete stoop with cracks? Update to a beautiful stone stoop or porch.
Providing a focal point: Plantings, landscape lighting like lamp posts, and decorative pieces like a small water fountain are good ideas.
Colorscape:  Adding a splash of vibrant annuals and perennials flowers and plants will make a big statement.
Landscaping lighting: A small yet impactful solution, outdoor accent lighting can not only enhance your yard aesthetically but also eliminate any dark, shadowy areas at night and prevent any safety hazards.
Updated driveway and/or walkway: If your driveway is old and outdated or starting to crack, updating it can have a big impact. There are pavers that imitate any stone for driveway landscaping—brick, travertine, limestone, etc. Same goes for any walkway in your yard. A new stone or paver walkway is a great front landscaping idea.
Stairways: Like retaining walls, stairs are ideal for hilly yards. Adding a staircase walkway to your sloped yard is a great way to add curb appeal—and give your visitors easier access to your door.
It is pretty easy to do many of these things yourself, but perhaps your front yard is devoid of plants and eye-catching features.  You may consider planting a tree as a focal point, installing a trickling fountain, or even building a patio.  In addition to these memorable details, it is important to use color to attract and focus attention on positive attributes of the landscape.  This not only requires planning, but you may need a landscaping company to see some of these designs through.
Having good curb appeal makes selling your house easier, as potential buyers are looking for an aesthetically pleasing home.  But don't brush off having curb appeal even if you are not putting your house on the market.  An attractive landscape design is always important!
---