Lawn Care In the Fall
Lawn care is necessary if you are to keep your garden looking its best. At the end of a busy and fun filled summer, your lawn may begin to demonstrate symptoms of wear and tear.  Early autumn is an excellent time to maintain the damage and make sure that your lawn would be in good fettle for the upcoming year.
Lawn Care Guidelines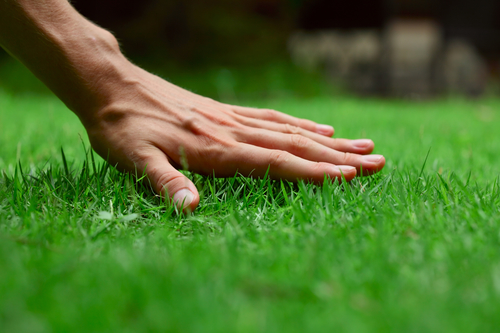 Before raking debris, you should kill any moss with a lawn moss herbicide. For larger lawns, you can use a motorized scarifier.  Ensure that you use a spring-tined rake.  Scraping your lawn enhances its look and adds vigor to the lawn. Establish air channels in dense turf by placing a border fork in the soil.  This action will draw plugs out of the soil.
After scraping and aerating your turf, fill the holes with a top dressing.  You can purchase your top dressing from garden or hardware stores.  It is such an affordable and simple technique that you can also make your own top dressing.
After all the fun times and frequent use during the summer, your lawn may exhibit signs of degeneration.  Therefore, early autumn is a superb time to maintain any devastation.  Make sure that your lawn is in excellent health for next year.
With the use of gloves, put some granular autumn fertilizer evenly over noticeable squares.  If no rain falls within three days of applying the fertilizer, then wet it.  In the initial stage of autumn, your soil would be warm enough and damp to plant grass seed.  Additionally, scatter seed to correspond with your type of turf. Apply this at half of the suggested rate for contemporary turfs.  This helps to enhance any depilated spots.
If you want to improve on the way you take care of your lawn then contact DK Landscaping. We are the experts in plant and lawn care. We can help you create the right conditions for a healthy and much improved lawn and garden.
Tagged: DK Landscaping, landscape, Landscape Maintenance
---
You can leave a response, or trackback from your own site. Back to Top