Effective Garden Tips Part 1 – Use Mulch For A Healthy Garden
In an effort to keep gardens healthy and vibrant gardeners utilize a variety of tips and techniques that serve to nurture, protect and maintain their plants and vegetables. Among these techniques  the use of mulch has been found to be one of the easiest and more common methods used to promote a healthy and consistent environment in gardens.
Generally mulching can be utilized in several different areas including vegetable gardens, flower beds, plant pots and walkway areas however it is mainly used to help in the elimination of annoying weeds and helps soil to retain moisture. Additionally it also helps to protect and stabilize plants, trees and crops.
Different Types Of Mulch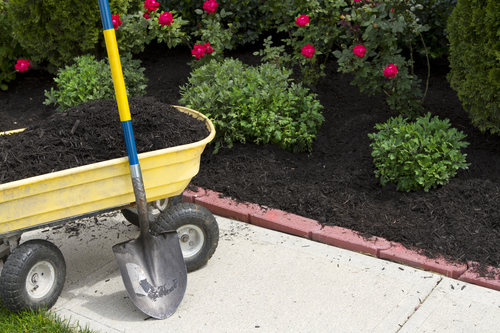 Basically there are two kinds of mulch that can be used in gardens and these are organic or inorganic mulch. Usually organic mulches consist of several different materials including chopped leaves, straw, grass clippings, wood chips, sawdust and shredded bark while inorganic mulches are mainly comprised of  gravel, stones, black plastic, and geotextiles.
Nevertheless regardless of the type applied to a garden its use is mainly the same which is to discourage weed growth and improve soil quality however organic mulches gradually improve soil as they decompose while inorganic mulches don't.
How To Mulch
Gardeners mulch gardens for a variety of reasons but depending on the reason there are certain tips that should be applied if this technique is to be done properly and is to work effectively.
Mulch To Be Rid Of Weeds
For instance if mulch is being used to eliminate weeds there are two important tips gardeners should remember if it is to be executed accurately. The first tip would be to place the it on soil that has already been weeded and the second would be to lay it down on soil thick enough to discourage new weeds from reappearing.
Normally the thickness of mulch should range from around 4 – 6 inches when applied however in areas where weed growth is not as common a layer of mulch measuring 2-3 inches should be enough to do the trick.  
Mulching Reduces The Need To Water Gardens
As a great way to keep soil cool and help plants retain moisture in dry conditions gardeners can again apply mulch to their gardens. It also reduces the need to constantly water gardens and what's more is that in cold conditions mulching also provides considerable protection to prevent the freezing and thawing of the soil as the gradual decomposition of materials only generate minimal heat.
Additional Tips To Consider 
When using organic mulch it is important to remember that they carry a low nitrogen content therefore gardeners should first fertilize soil with a high-nitrogen product such as blood meal or fish meal to increase nitrogen levels in the soil before applying mulch.
Gardeners should also remember to keep mulch about an inch away from crowns and stems to prevent them from becoming choked or damaged and should also be careful not to allow  wet mulch to rests against the stems of flowers and vegetables as it can cause them to rot.
So protect and maintain the ideal environment in gardens by considering mulching it will save you time and promote a healthy environment for your plants or vegetables.
Need Help In Your Garden?
If you don't know what to do or need help mulching your garden don't hesitate to give us a call at DK Landscaping Inc. at: (707) 217-6508 we'd be happy to come and give you a hand. You can also check out our website: dklandscaping.com to have a look at the services we offer.
Tagged: lawn care, mulch, mulching
---
You can leave a response, or trackback from your own site. Back to Top