Preserve The Ecosystem With Gorgeous Landscape Designs
Over time scientists, environmentalists and activists have all pleaded with persons around the globe to take responsible measures when it comes to the safety and preservation of our environment. You can create landscape designs that enhance your surroundings and that are environmentally friendly as well.
Ecofriendly Landscape Designs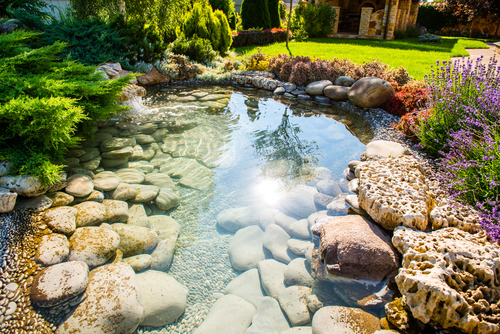 In order to achieve this persons around the world must take action by positively inspiring others to take care of their surroundings along with improving environmental aspects of society, nature and its resources. If these positive actions are consistently promoted and executed even to the tiniest degree they result in a major impact on the environment.
Having a wholesome and positive impact on the environment can be achieved in many ways some of which include recycling and reusing products and properly disposing of garbage and hazardous waste.
Another dynamic and eco-friendly solution would be for persons to preserve ecosystems by using impressive landscape designs. The birds, butterflies, squirrels and many other small creatures all call our gardens or outside surroundings their homes.
These delightful creatures astonish, entertain and offer us a tranquil ambience in and around our homes and surroundings. The individual role of each creature also plays a vital role to the environment and our ecosystem so it is very important that we help to attract and preserve all the elements that influence and affect their habitats.
One suggestion that has proven to be very effective as it relates to preserving the ecosystem would be to grow plants that attract wildlife. By planting the right flowers, trees, shrubs and vines in our gardens and backyards we will be helping to nurture and protect the ecosystems that exists all around our homes and communities.
Using plants and trees that occur naturally in the area you live provides an excellent source of food for birds, insects and other wildlife. Nectar, seeds and tasty fruits are all on the menu however pollen and nectar are among the most common food sources for insects and small birds so by utilizing pollen rich plants like wildflowers and other old fashioned varieties along with annuals and perennials we offer food, nectar and pollen to birds and insects throughout the growing season.
It may not seem like it but by planting a variety of trees and plants we also offer much needed shelter and protection to wildlife to rear their young and hide from predators. Utilizing tips like letting a part of your lawn grown wild to offer sanctuary to ground nesting bees or allowing a dead, hollowed, tree to stand to create nooks for birds and butterflies.
Bird baths, nesting boxes and small ponds all help to promote and increase the wildlife population around us which results in thriving ecosystems. Having readily access to water is very crucial to wildlife survival so again by installing a water gardens or a catch basins for rain can certainly help to provide a constant stream of water for wildlife in our surroundings.
In order to make this a reality as well as to get and stay on a path that encourages the preservation of the environment and it's many ecosystems the goal would be for each individual to take responsibility and perform positive acts daily that ultimately improve, enhance and protect the environment as a whole.  Contact us for more information.
Tagged: DK Landscaping, landscape, landscaping
---
You can leave a response, or trackback from your own site. Back to Top