Have A Narrow Walkway? Try These Gardening Tips
There are quite a few gardeners out there who have an extensive knowledge of plants and landscaping in which they use to come up with some very impressive and unique ideas for their gardens. However there are still many amateur gardeners or homeowners out there who love to beautify their properties and are excited about doing new things but lack gardening knowledge.
Try These Gardening Ideas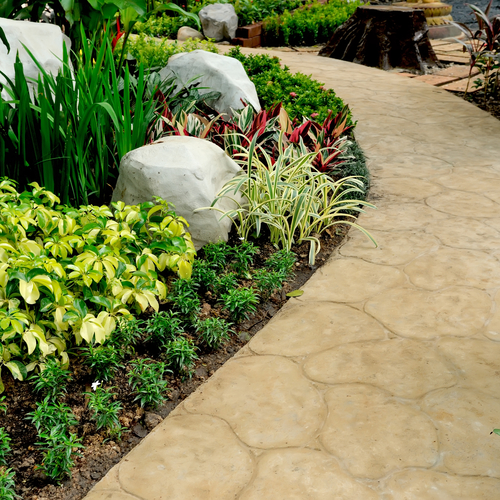 This might be just what you are looking for as this article offers some pretty insightful and dynamic tips that people can utilize to create gorgeous landscape designs while adding ambience and character to their surroundings.
Before focusing on choice of plants a great idea might be to add an outstanding feature to accessorize the garden and surrounding areas of the home. Installing an ornamental gate at the entrance of your walkway is a great start. This will immediately make the walkway feel more private for you and still feel inviting to visitors.
Once this is done establishing a focal point in the garden or surroundings would be the next step. Using an attractive tree, bird bath or bench brimmed with brightly colored plants can serve to draw the eye beyond the walkway while enhancing the appearance of the entire garden.
If the walkway or pavement needs repair it would be best to ensure that this is done in the initial stages. You should not wait until after you've planted the flanking beds mainly because this is exactly where you or your contractor will need to tread while working on the path or pavement. So to avoid the destruction of garden beds make sure you do any necessary repairs before proceeding to that stage.
Once you have secured and established the basic groundwork for your garden you want to make sure you choose the correct plants trees and flowers. If you reside in an urban area the best plants to use are low-growing perennials. Besides their beautiful shades most of them die in the winter or can be cut to the ground. This makes it easier for gardeners when dealing with the snow as well and when it's time to regrow the next growing season.
The Ajuga, lysimachia, and creeping phlox species all spread like a carpet and Ajuga reptans 'Catlin's Giant' has burgundy-bronze leaves that supply color to surroundings long after its deep-blue flower spikes fade in late spring.
The Lysimachia nummularia  species possesses a delicate, looking foliage that covers ground quickly and softens the edges of a path.
To add more color and variety consider using the Phlox stolonifera species which is popular for the graceful flower clusters it sends up on 8-inch stems in late spring. The wild form is usually bluish but there are also blue, white, and pink varieties.
To give an added touch to your paths or walkways using slightly taller plants would be best. They won't bend into the way of people using the walkway and at the same time they add a contrasting feature to the surroundings. Be sure though to avoid using plants more than 8 inches tall to prevent overgrowth in the walkway along with overshadowing other features within the garden.
Ensuring that a safe and nurturing environment is maintained throughout, gardens and surroundings should be the priority of every gardener. If in difficulty or you may be lost in some areas hiring a professional would be the best course of action, but if you are just looking for tips to improve and enhance there are a network of informative and effective tips available online that give tremendous insight into how those ideas can be achieved. Contact us for more information.
Tagged: DK Landscaping, landscape, Landscape Maintenance
---
You can leave a response, or trackback from your own site. Back to Top