Archive for Battle of the Brews
---
A consistent supply of water plays an integral role in the nurturing and maintenance of trees, crops, plants and flowers on a daily basis. Nevertheless when it comes to supplying a garden with water most people believe that so long as plants are watered all is well. Unfortunately this may not necessarily be true as there are many factors that affect the way trees, plants and flowers receive water. With that said here are a few insightful tips for watering gardens that gardeners can utilize in order to maximize the amount of water their plants, trees and flowers receive.
Mulching Improves Water Retention In Gardens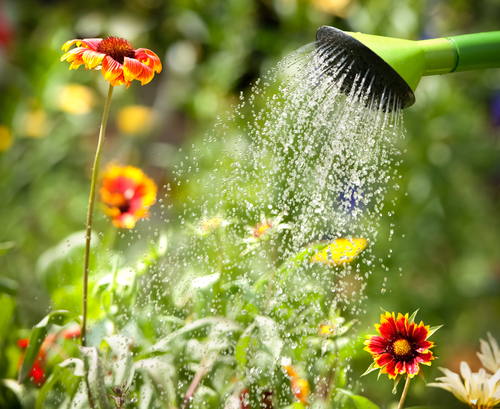 Even though insufficient water can be harmful to trees, plants or flowers an excessive supply of water can practically have the same effect. So it would be safe to say that not only do gardens need a consistent supply of water to stay well maintained but they need accurately, proportioned, amounts as well.
It may seem like somewhat of a challenge to actually estimate what constitutes the the correct proportion of water that should be supplied to a garden. Even though there is not really a standard way to gauge this there are some methods gardeners can apply to make sure plants always have the water they need.
Mulching is a very effective gardening method that helps gardeners to reduce the excessive watering of gardens. This method also helps to improve water retention and soil structure so that plants don't constantly need to be watered.
Test Soil Regularly To Eliminate Unnecessary Watering Of Gardens
Disproportionately watering gardens tends to not only be a wasteful practice but it  also causes gardeners to work more than necessary. Therefore gardeners should make it a practice to conduct regular tests on soil to determine whether or not plants need an immediate supply of water.
The best way to do this is to take a spade and push it deep into the soil. Once you pull the spade out check to see if it's damp or dry which should give you an idea of if it's time to water or not.
Remember though if you have clay soil it may feel damp whether it's irrigated or not and sandy soil can feel dry even if it's wet. So in cases like these gardeners should watch plants for when they start to show signs of water stress to determine when water should be supplied.
Some Mechanisms Can Provide An Adequate And Timely Water Supply To Gardens
Over time gardeners have taken advantage of the availability of certain tools that can help to effectively manage the water supply to their gardens. Some of these tools include automated irrigation and sprinkler systems which can not only minimize the time spent watering gardens but they can adequately supply water to plants at the required time.
Need Help With Irrigation Or Sprinkler Installation? Let DK Landscaping Manage The Job For You!
Are you are interested in installing an irrigation or sprinkler system in your garden but don't know what to?  Well not to worry here at DK Landscaping Inc. we specialize in all your landscaping and gardening services and we'd be happy to come in and complete the installation for you.
Striving to provide the highest, quality, services to all clients we offer extremely affordable rates and we work with clients to manage any type of gardening environment. So give us a call at: 707 280-3632 or visit our website:dklandscaping.com for more information.
---