Winter Services for Property and Landscape Maintenance
The cold temperatures and dry air can prove to be quite the burden on your lawn and landscaping. Property owners can preserve the integrity of their lawn and landscaping by reaching out to our lawn and landscape maintenance professionals for expert treatment. Ally with DK Landscaping and we will make sure your property maintains its beauty throughout the winter, spring, summer and fall.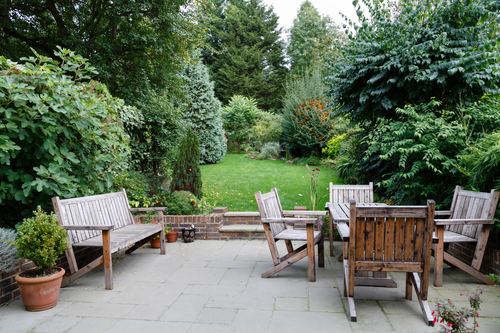 Winter Lawns and Landscaping Maintenance
Your front and back lawns are not a lost cause during the winter months. Though the frigid temperatures will take a toll on all forms of life, it is certainly possible to maintain a lovely lawn, shrubs, flowers, trees and other greenery during the coldest portion of the year.
DK Landscaping knows exactly how to treat lawns during the winter. We make use of a unique winter fertilizer that keeps lawns looking fantastic even when the temperatures dip down toward the freezing mark. Our special fertilizer enhances grass so it does not require an abundance of water. It also stimulate robust root development that ultimately preserves the integrity of your grass across the years to come. This fertilizer even bolsters your lawn's ability to combat disease and withstand heavy foot traffic.
Ally with DK Landscaping for winter lawn and landscaping maintenance and you will notice a considerable difference in your property's beauty. We know exactly which trees, shrubs and flowers should be pruned during the winter months. Furthermore, our team understands the extent to which each type of shrub and flower should be pruned.
As an example, we prune certain roses back by upwards of 80 percent during the winter months. Certain types of grass such as ornamental grasses require 90 percent pruning during the coldest months of the year. This is the type of attention to detail that separates your lawn's health and beauty from the pack. Put your faith in DK Landscaping to sweat the small stuff and you will enjoy the benefits in the form of glorious lawn and landscaping that holds its beauty far into the future.
Water Preservation
The winter months can be brutally dry. You might be tempted to water your grass, trees, flowers and shrubs quite frequently during this time of the year. Yet you don't want to run up an expensive water bill or spend your limited free time outdoors in the bone chilling cold with a hose in your hands! Your best course of action is to turn to the irrigation experts at DK Landscaping.
We know all the best methods to disperse water in a highly efficient manner. We also perform water saving landscape design known as "xeriscape". Homeowners and commercial property owners can both benefit from the efficient distribution of water across lawn and landscaping. Our goal is to conserve water, save you plenty of money and keep your lawn in tip-top shape.
In addition to water saving landscape design techniques, we also make use of native plants acclimated to the dry air, runoff prevention methods, drip irrigation, MP rotators and smart evapotranspiration timers. The end result is a stunning lawn and landscaping that requires substantially less water than previously needed.
Ask any of our current or former customers about our water conservation design methods and equipment and they will testify to the legitimacy of these strategies.
Let our landscape maintenance experts take a look at your property and we'll start brainstorming ways to boost its aesthetic. Whether you are looking for a beautifully green lawn or elegant landscaping, DK Landscaping can make it happen. Reach out to us to schedule an initial consultation.
Tagged: Landscape Maintenance, lawn care, winter, xeriscape
---
You can leave a response, or trackback from your own site. Back to Top