Winter Landscaping – Its Actually Great For Your Lawn
During the latter time of the year, when the winter months begin to creep in, the outdoors transition into a dull and inhospitable place. All the activity then shifts to the indoors, however, for garden and lawn lovers alike, this is the ideal time to prep your lawns and gardens for the upcoming growing season. These are five easy tips you can consider, to keep your gardens and lawns in good shape during winter. Improve your winter landscaping techniques today!
Winter Landscaping Tips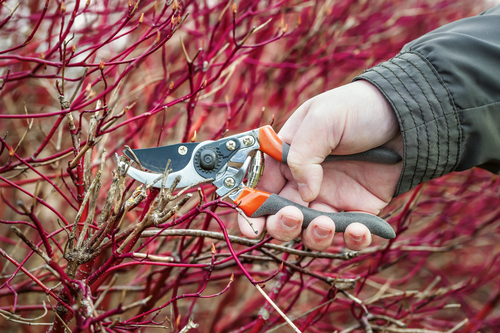 Pruning and trimming is a popular garden practice. This helps to shape, improve and maintain the general health of plants and trees. During the dormant, winter months carrying out these practices, tend to be fairly, popular and is encouraged,as during this time of dormancy, the vast majority of hedges, shrubs and trees, including evergreens and deciduous trees, can be pruned or trimmed, without causing damage to the plant or tree.
Heavy snowfall and high winds, usually come with the seasonal winter storms.Therefore it is recommended, that prior to this time, all high or decayed branches, be pruned or entirely removed. If or when stormy conditions occur, these decayed  branches or dead trees can quickly transform into falling hazards, that pose serious threats of injury. With that said, not everyone may be confident enough to carry out pruning or trimming effectively. So we recommend, consulting a local, insured, tree removal service, who will handle all your trimming and pruning needs in a safe, professional and effective manner.
During the fall, leading into winter leaves are constantly falling, covering your garden or lawn from end to end with immense amounts of leaves. Cleaning and maintaining your lawns or gardens at this time, certainly proves to be a daunting task but is also very important. This practice allows your garden beds and lawns, to receive the adequate amounts of sunlight required, for the optimal growth of plants as well as lush healthy lawns.
Another resourceful and efficient tip one can utilize in effort to prep your garden for the upcoming growing season, is getting a head start planting your garden beds. One can begin by  pruning all shrubs, trees and perennials.Secondly, clear and remove all leaves and other debris from beds.  Afterward, define the edges of beds by hard edging and creating a perimeter pass along the edge, with a lawn mower. Once these steps are completed you can then begin to install your bulbs for spring.
Protecting plants from any damage or destruction, has always been a major concern for most gardeners,with the harsh,winter weather being no exception. A clever tip that has proven effective, to equip gardeners for this extreme period, is the use of mulch. Mulch is used to retain soil moisture, regulate soil temperature, suppress weed growth, serves as an aesthetic and most importantly, acts as a shield against the unfavourable, winter, conditions. Planting beds should be mulched at a depth of 1.5 – 2 inches, to ensure plant roots remain the right temperature as well as to offer the right amount of protection from any potential damage.
Ensuring that you maintain a safe and nurturing environment throughout your garden, should be a priority of every gardener, especially throughout the winter season. This would include tying up loose branches of evergreens and boxwoods,turning off and covering all water spigots, storing away any remaining, organic, chemicals and making sure that irrigation systems are properly winterized. With that said, please remember not to use a broom or shovel while removing snow from branches as they will be frozen, fragile and could easily sustain damage. If in doubt this winter season contact DK Landscaping for more information.
Tagged: Landscape Maintenance, Sonoma County, winter
---
You can leave a response, or trackback from your own site. Back to Top