Hardscape Ideas for Lawn Landscapes
In creating gorgeous landscape designs people tend to go above and beyond in seeking to create and achieve the look they want. There are a variety of techniques that can be used to not only enhance but to give an elegant finish to any landscape or outdoor space.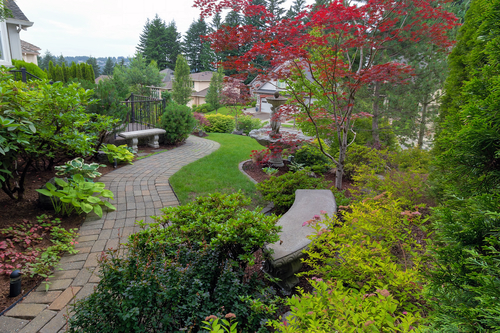 Bring Elegance To Your Landscape With These Hardscape Ideas
One very effective technique used to achieve the perfect finish to any landscape is Hardscaping. When speaking about hardscaping it refers to the structural inanimate features used and incorporated into a landscape to add a stylish and sophisticated appearance. These features can include anything from decks and walkways to edging and ornamental features and can be formal or informal depending on the style of your home and surroundings.
Nevertheless it is very important that varying textures be carefully considered as the texture of material/s used when hardscaping usually determines the final appearance of the landscape. Using too much or too little materials can result in a dull or cluttered finished look therefore to prevent any issues after the designed space is completed it would be best to choose no more than two or three textures of hardscape materials for projects.
Selected materials should be able to perfectly blend and complement the exterior structure of the home as well as be visually attractive. Other elements like color and drainage patterns once carefully and selectively used can and should improve the overall appearance of the home and surroundings.
Installing walkways and paths are also common elements incorporated within the hardscaping process and are used to accentuate and designate the areas in which traffic constantly travels. This is usually achieved by utilizing materials such as bricks, pavements, woodchips, flagstones, retaining walls, rocks or concrete blocks.
Different areas of the landscape may require various hardscape elements based on their purpose. For example using shredded tires painted in various colors for areas that children play or frequent. This provides a safe and attractive environment for kids who utilize outdoor surroundings for activities.
For areas used to entertain like dining or sitting areas the addition of a patio or deck accessorized with elegant furniture and decor are ideal ways to enhance and decorate big or empty areas. Water features like small ponds or fountains and ornamental accessories like a bird bath, statues or benches could also be great ideas that help to create a tranquil yet beautiful and characterized, outdoor space.
Once you have planned and designed the outdoor space that you wish to have the only thing left to do is to fill in your garden and lawn areas with the desired plants, trees or grass and proceed from there. Furthermore the addition of outdoor and garden lights will not only enhance and give ambiance to the outdoor area but provide a sense of safety and security when using outdoor spaces at night.
The concept of hardscaping really isn't difficult to execute so long as planning is carefully and accurately done. It really gives an extra edge to outdoor spaces and surroundings while being an excellent expression of your unique taste and style.  Contact us for more information.
Tagged: DK Landscaping, garden, landscape, Landscape Maintenance
---
You can leave a response, or trackback from your own site. Back to Top